Ginevra Shepard
Biographical Information:
Age:
20
Birth Date:
20th of July, X871
Birthplace:
Era
Relatives:
:: Mother~
40 Years Old, [Deceased]
:: Father~
44 Years Old, [Deceased]
:: Sister~
 10 Years Old, [Deceased]
:: Brother~
14 Years Old (When he Dissapeared), 22 Years old (Currently), [Unknown]
Physical Description:
Gender:
Female
Height:
5,7''
Weight:
47kg
General Description:
Ginevra is a tall girl with beautiful, gentle features and perfect body. She is slim, yet has some nice to the eye curves, as she is not exactly a small, plain girl as many would expect with her weight, and an apparently pale, although not too pale smooth skin with no imperfections on it. She has long, pink hair, that always falls perfectly around her, even if she had just got out of bed. Her face is clear, well-shaped, and holds her blue eyes, that often remind of people of ice, because of their colour and the cold stare that Ginevra tends to give people.
Ginevra is the kind of woman that is beautiful and is conscious of that. She doesn't like wearing baggy clothes that make her look as if she weights 5-10kg more than she actually does. Usually, Ginevra tends to wear revealing clothes, most of which tend to be short dresses, although in some ocassions, usually when doing a Request, Ginevra tends to wear black leggings and a black sweater.
Her guild tattoo is located on her back, right below her neck, and is purple.
Face Claim:
Megurine Luka- Vocaloid
Personal Information:
Sexuality:
Heterosexual
Personality:
To begin with, Ginevra is a person that cannot trust people with ease, or most often, cannot trust anyone at all. Always being lied and abandoned, Ginevra rarely even bothers in trying to trust people, and would rarely risk her life for someone if she knows that this person wouldn't bother to risk his life for her. In a way, Ginevra doesn't believe in true friendship, friendship, or love; she just sees these words as false, imaginary concepts, as something that does not exist. She believes that in a determined moment, even the best of friends, even the most loyal companion, or the best lover would betray the person they have promised to remain with, stab them in the back and simply walk away, laughing at the disaster they may have caused in the person's life.
Ginevra is a very level-headed person, and quite, despite being a Dark Mage, she has a sense of Justice, in a way, and a quite weird attitude for a mage of her alignment. Ginevra is a person that dislikes killing, a lot. She may be used to seeing people getting killed, and killing people herself, but she dislikes doing it a lot. Despite her great dislike towards it, she will kill someone if she is required to, or if that person has annoyed her greatly.
Ginevra is a person who values Logic and people who make a use of Logic greatly. She believes that the solution to many things can be found by using the head and applying some logic to the situation, although many people do not appear to realize that. Apart from valuing knowledge, and Logic, she values Strategy and People who make a use of it. She finds people who simply dash in a fight without using the head are people that are fated to lose the fight. Simply using spells, or weapons, without planning things out properly before that is simply something that Ginevra classifies as ''ridiculous''. Due to that, Ginevra tends to plan her movements before actually doing anything, in order to prevent awful fails, or to cause life-threatening situations, that, if the movements had been planned out before, would have not occurred.
Ginevra, however, is a person who finds Drinking and Flirting very entertaining, and spends most of her time around bars or flirting with random people she finds and considers worth her time. She, apart from a flirt and a heavy drinker, is a seductress and a very arrogant girl; Ginvera is conscious of her beauty and wouldn't hesitate in using her charms in order to achieve her goals, and considers herself superior, more beautiful than others and more intelligent. Those beliefs of hers make her be a very, very arrogant girl all the time: so arrogant that many times people had felt the need to walk away from her, due to her arrogant attitude and high self-esteem.
Magic Information: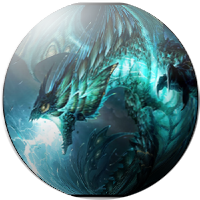 Magic:
Lightning Dragon Slayer
Description:
Lightning Dragon Slayer magic is a type of Lost, Caster magic, whic allows Ginevra to transform the physiology of her body into that of a Lightning Dragon; basically her mentor, Vollenth. Dragon Slayers are a unique type of mages, who actually get the chance to train under a real dragon, only to acquire a magic that allows their pupil to slay their own kind, that is; Dragons. The reason as to why this is practiced is completely unknown, but its been observed that the mage who makes of use of this magic gains certain Dragon-like aspects; both physical and mental, although the latter is much more recessive.
Lightning Dragon Slayer is a form of Dragon Slayer magic that grants Ginevra characteristics unique to the Lightning Dragon, allowing her to incorporate the element of Lightning in her body, and gain a certain resistance to it, as well as be able to consume it, in order to regain her vitality, although, like other Dragon Slayers, Ginevra is not able to consume the lightnings she herself produces.
This branch of Dragon Slaying magic relies mainly around the use of offensive techniques, with Ginevra being able to produce a variety of lightning attacks with pretty much every part of her body. However, this branch in particular, has no, or nearly no use for defensive purposes, as lightning is an element mainly used not to defend, but to attack, and that is more destructive than anything else.
Advantages:
:: High Voltage Lightnings:
The Lightnings produced by Lightning Dragon Slayers are extremely High-Voltage, making the action of touching a lightning produced by Ginevra incredibly perillous.
:: Lightning Body:
Thanks to certain spells, Lightning Dragon Slayers can turn into a
literal lightning
, menaing that their body will change physically to become a lightning, not only making her incredibly high-voltage, and granting her the ability to move at the speed of light.
:: Enhaced Senses:
The Lightning Dragon Slayer, just like all other Dragon Slayers, has increased sense of smell, hearing and sight. She is capable of tracking people through smell, has better vision than most, and also better hearing than most.
:: Insane Reflexes:
Ginevra has noticeably insane reflexes, and can catch things that accidentally fall, react to surprises quickly, even catch arrows shot at him without looking with his hearing alone. She has increased reaction speed, only because she is a Lightning Dragon Slayer, and has increased speed, which, at higher ranks, is similar to the speed of Lightning itself.
Disatvantages:
:: Motion Sickness:
Ginevra, just like every other Dragon Slayer, except for the Sky Dragon Slayer, has motion sickness. Put her on a vehicle and watch her fall over, get nauseas, pray in fear and panic for the ride to end right away, falling over helplessly if she tries to move, making her pretty much useless when on a vehicle, and helpless in a fight that takes a place in a vehicle.
:: God and Devil Slayer:
Ginevra
cannot
consume Lightnings produced by the Lightning God Slayer or the Lightning Devil Slayer, due to them being ''mixed'' forms of lightnings; The Lightning God Slayer's Lightning is an Unholy form of Lightning that Dragon Slayers cannot consume by any means, and would cause Ginevra severe nauseas and pain if she attempts to do it, while the Lightning Devil Slayer produces ''Holy'' Lightning, which will cause nauseas and pain to Ginevra if consumed, similar to the God Slayer's unholy element. However, Lightning God and Devil Slayers
can
consume the Lightnings of the Dragon Slayer and come out unharmed, even get their vitality regenerated, and thus, can consume an attack of the Lightning Dragon Slayer and remain unharmed, leaving the opponent with drained MP.
:: Wind Mages:
Ginevra has innate weaknesses to the Wind Element which can redirect and push lightning away or back at Ginevra. Wind Magics of equal or higher rank will cause his Lightning spells to go haywire; and fizzle out. A skilled Wind Wizard ranked higher than Ginevra can even carry he Lightning back towards Ginevra herself, or her allies. Naturally, Ginevra would suffer no damage if she gets hit by her lightnings, but Her allies would, and she would have her MP drained, although her spell have not hit its target.
:: Very little Deffensive spells:
Lightnings is an element, mainly described as incredibly dangerous and mostly used for offensive purposes. Ginevra, as a Lightning Dragon Slayer, uses the element of lightning by producing mainly offensive attacks, and hasn't got many deffensive spells, making the user relay solely on offense, making them oppen for attacks.
Chronological and Political Information:
Alignment:
Chaotic Neutral
Guild:
Phantom Lord
Background History:
Ginevra was born in Era the 21st of July of X871 to a rich family of Merchants. As this suggests, Ginevra has lived the major part of her childhood surrounded by luxury, always getting whatever she wanted, without having to put a lot of effort in anything.
Her first five years of life went on smoothly. She was a very cute baby, yet a hyperactive mischievous kid that was always running around, getting in problems with the maids that served her family or ruining things. She didn't care about hat she destroyed, what she did or how many wounds she returned home with; after all, nothing mattered to a carefree child like she herself was. Her parents tried to teach her how to act properly around people, but Ginevra didn't learn them then, rather, she did that later on. She didn't care if she acted or not properly around people. She actually didn't care much about other people, not only because she was a kid that hardly understood something; but also because the only people she loved and knew were her parents, her big brother Ray and her little sister Melody, born 2 years after her. Her siblings were the people she used to spend her free time with, and she was incredibly fond of Ray, her older brother, who loved his little sister about as much as she loved him.
However, one day, everything went to hell. Ginevra's father had gotten into serious problems with mercenary mages. He assured his family day after day that those mages would do nothing to them, but he was wrong. So wrong. One night, Ginevra woke up because of the awful smell in her room. She got up, and almost immediately noticed that there was a lot of smoke in her room. Soon after that, her older brother, Ray, bursted into her room and tried to drag her out of the house, telling her that they had to run, they had to escape the house, because someone had set it on fire. In between his random rambling, Ginevra noticed that he mentioned that their parents and Melody had died in the fire, which upset her a lot, almost about as much as to drag her to throwing herself in the fire. However, Ray didn't let her do this and dragged her towards the exit, escaping. The two of them ran until they were far from the house, but turned around to see their home burn. As they stood there and watched, suddenly, the people that had set the house on fire suddenly grabbed Ray and separated him from his sister, taking him away, while Ginevra managed to escape from them, running into the forest next to her house.
She ran until reaching a meadow, deep in the forest, where the men could not find her.  She layed down and broke down, crying her eyes out, letting go all the sadness gathered from what had happened. She layed down and weeped for hours, until a sudden flap of wings made her stop. It was much more potent than a bird's flap of wings, so Ginevra oppened her eyes terrified to withness a big, scaled creature flying above her...
Dragon
She had heard stories of the existance of Dragons. Mighty, majestic creautres, rulers of the skies were the Dragons. She had heard so many legends, so many stories, but Ginevra never thought that they were real. She always had thought they were creatures long-extingued, that they might have existed, but not anymore. Yet, there she was, staring at a dragon. The King of the skies landed in front of Ginevra, her wise eyes staring at the girl. The dragon had yellow scales, and lightnings rumbled all around its body. A Lightning Dragon. Ginevra began backing away slowly, scared, when a majestic voice resonated through the entire meadow, and, possibly, the forest. The dragon had asked her what had happened and why she was crying, and, Ginevra, for an unknown reason, told him everything. The Dragon, who introduced himself as Vollenth, took Ginevra with him as his adoptive daughter, deciding to teach her Dragon Slayer magic.
The next years went by smoothly. Ginevra remained with Vollenth as his pupil and adoptive daughter, mastering the art of Dragon Slaying as time went by. Vollenth was quite happy with the progress that the girl was making as years went by, but highly disliked her attitude; Ginevra, from a nice girl she was in the beginning, had became cocky and arrogant, and somewhat cruel and sadistic. It worried Vollenth that one day, she might take the wrong path in life and begin using her magic not to help the innocent, but to destroy the innocent.  But he couldn't do anything about that: Ginevra was the one who had to chose the path she wanted to take in life, and not him. So he left her chose.
Soon months before Ginevra's 20th birthday, Vollenth dissapeared, leaving Ginevra all alone. The Lightning Dragon Slayer was lost for a few months, clueless what to do, living solely out of stealing things. But, mere days after she hit 20, she decided to join a Dark Guild; Phantom Lord. Why not joining a legal guild? This was the question Ginevra asked herself over and over again before joining Phantom Lord. And every time, the answer was the same; she didn't fit in a legal guild.
Last edited by Ginevra Shepard on Sat Oct 04, 2014 11:54 am; edited 1 time in total

Ginevra Shepard






Posts

: 22


Join date

: 2014-10-04


Location

: Crocus [Masquerade Ball]

Statistics
MP:


(100/100)



Hello, I'll be checking your app today!

-Your birthdate is wrong, the year of the site is X891, so in order to be 20 years old the year should be X871.

Other than that, I see nothing wrong with this app aside from a few unimportant spelling errors. Bump when you've changed the birthdate and you'll have your approval.

Tsukiya Ishida






Posts

: 475


Join date

: 2014-09-03

Statistics
MP:


(270/270)




Ginevra Shepard






Posts

: 22


Join date

: 2014-10-04


Location

: Crocus [Masquerade Ball]

Statistics
MP:


(100/100)




Tsukiya Ishida






Posts

: 475


Join date

: 2014-09-03

Statistics
MP:


(270/270)





Similar topics
---
Permissions in this forum:
You
cannot
reply to topics in this forum