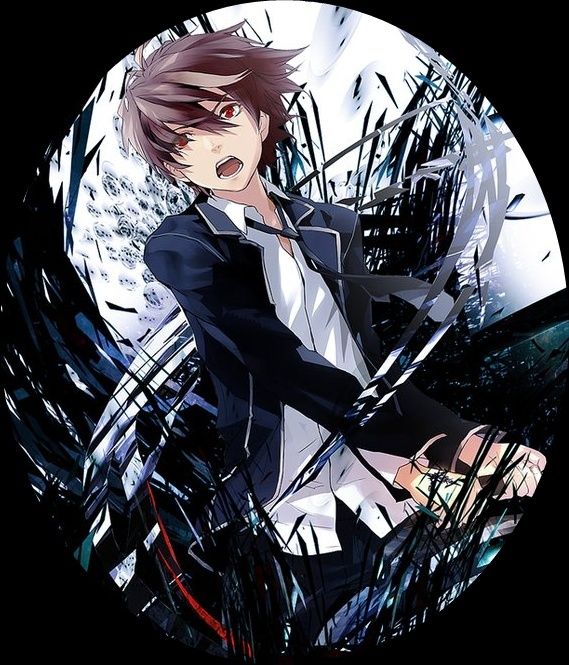 Name: Nexus PhoenixBiographical Information:
Age:
18
Birth Date:
7 December x873.
Birthplace:
Crocus.
Relatives:
Father (Foster),Mother (Foster),Grandfather (Foster),Grandmother(Deceased),Sister(Foster,Younger),Vollenth(Magic Teacher)
Physical Description:
Gender:
Male.
Height:
6'6
Weight:
75 KG.
General Description:
Nexus is a very handsome man,A well built man standing at 6'6,He has Brown hair.He has Ruby Red eyes which seem to pierce in you,He wears his Bracelet on his Right Hand along with his Scarf,He rather wears a Long Coat,Dark Blue with Dragon symbols at the back along with it and A  symbol on the Arm portion.He would wear a T-Shirt in summer and Jeans,He always wears Socks and A pair of Red coloured Boots.Sometimes he will wear a Hat and Long Leather Gloves with Headphones.He does wears Chains on his left hand.
Face Claim:
Shu Ouma-Guilty Crown
Personal Information:
Sexuality:
Heterosexual (Straight)
Personality:
Nexus is surprisingly outgoing for the life he's lived, often times getting in trouble due to his overzealous nature. Always the first to shout and get in peoples way, he enjoys being the life of the group- a truly excitable person. Fighting is one of the things he tries to become involved with, as he views it as the only way to get stronger. One can not know victory until he truly knows defeat- and, as he doesn't look at strength before challenging someone, defeat has been known to come quite often.
However, like many young adults, Nexus does have his serious side. When the situation becomes intense, when he's put into a life threatening ordeal, his personality does a 180. Calm, collective, trying to figure out the task at hand- He's a different person. Often times at this point he seems older, as his features furrow in concentration, giving the appearance of a man in his twenties.
While he is still in his good moods,Nexus often times over-does his emotions, showing the extremes of excitement, happiness and despair. The reasoning behind these are few and far between- Some could argue it's because, after he'd come close to entering the darkness, this was his way of ensuring these emotions are real. Or it could just be because he is weird. Who knows?
Since his adventure have truly began in Fiore, he has changed. Some would say for the better, but most would disagree. Nexus's personality has darkened some, to the point where he'd be considered many as Chaotic Good, or a Evill. A man who is bright and smiley, though doesn't talk as much as many would prefer him to. His voice is light, though deliberate and powerful. How many would imagine angels to speak. He seems, and truly is, a nice guy.
However, for what he views as necessary or "Good", he is willing to kill. Everyone has their own Sin's, but no one is willing to repent for them. He is slowly realizing that there needs to be a force who goes around and offers judgement. An angel, bathed in blood.
Nexus is also has a problem with rage. He will not show any signs of getting angry, or sad. He will just slowly become more serious, determined to do his goal. If the problems keep compiling, though, he will be consumed by his anger temporarily. Many say he becomes the embodiment of "Calamity".
Also As known by many of his friends and rivals alike,Nexus is both a rather calm,and carefree person. He gives off a rather mellow disposition, not getting truly mad very often, unless his mom is involved. Relaxing is something he enjoys, usually just kicking back at times for hours. The young man is not lazy as much as he is a rather lax person, but still has his mindset straight.Nexus holds a love for fighting people of great power; yet he never likes fighting those who lack in abilities, saying "it's troublesome and unfair".This is a preference he shares with his father. When in combat, he keeps himself level-headed and calm, believing one has lost the battle if he cannot keep his composure; and he believes in ending battles quickly. According to his father,it's obvious whenever Nexus is excited, given his usually calm disposition.
Magic Information:
Magic:
Lightning Dragon Slayer Magic (1
st
Generation)
Description:
Lightning Dragon Slayer Magic (雷の滅竜魔法 Kaminari no Metsuryū Mahō) is a Caster Magic, Lost Magic and a type of Dragon Slayer Magic that utilizes lightning.
Advantages:
A type of Magic which allows the user to incorporate the element of lightning into their body, gaining exclusive characteristics that are commonly associated with Lightning Dragons. The user is capable of producing lightning from their body and of manipulating it to attack their opponents. This Magic's spells seem to possess an incredibly high voltage, being particularly destructive, and the electricity of which they're composed of seems capable of momentarily paralysing foes, making it easier for the user to take them out;
Disadvantages:
However, their trajectory may be redirected by metal objects acting as "lightning rods", thus redirecting the attacks.It allows to consume the external sources of Lightning.However, this won't work for lightning they produced themselves.It also has a weakness of Earth or any variation of the magic,This Magic is also weak against Wind Magic.
Chronological and Political Information:
Alignment:
Chaotic Good.
Guild:
Fairy Tail.  
Background History: 500w Minimum
Nexus was taken from a foster by the Lightning Dragon "
Vollenth
",He sensed a Good Potential of Magical Energy,Vollenth decided to teach him his signature
Lightning Dragon Slayer Magic
,Nexus took no time in learning the magic,But accidently his Lightning turned into Blue,Vollenth was happy for that,But then-One Day When Nexus woke up and saw that Vollenth is missing.He sweared that he will find Vollenth but he was only five years old,But then also he had a strong willpower,so he set out to find him,But reaching Crocus,He got exhausted and fell unconsious,A lady saw him and kept him as his son.Adopted into the wealthy and charismatic Phoenix family as the first-born son of the son of the Head of the family, Nexus was burdened with several expectations upon him. From his initial toddler years, Nexus was brought up as a prince, who was pampered and yet given harsh restrictions on everything that he could and could not do. For this reason, Nexus developed a slight animosity against those who restrained him, and would constantly seek attention by the higher-ups of his family, in particular his parents.
Furthermore, Nexus was always an innovative, inquisitive and somewhat impulsive young man; evident by the fact that he constantly went on his own adventures. Rarely would he ever stay in his manor, and if he did, it was because he was learning how to fight or he was teasing his younger siblings. But Nexus never had any wrong intentions, and was a kind-hearted man, which appealed to the elders of his family.
From a tender age, Nexus was exceptionally intelligent and overall talented. His father would even do flashcards with him at just the age of three, despite said flashcards being for nine to ten year olds. His father was strict but not a person who will not be with him.
By this Time,and his parents knew about it,they were still with him.He would join a Unnamed disbanded guild now. As time passed, Nexus's growth rate was unprecedented and he had the respect of all the people in the guild. Sadly, in the same year,the Guild Master, died and the guild was disbanded on request of the late master. That year was one that changed the very direction of the young man's life. From then on Nexus would travel far, learning, training, and making a name for himself in Fiore.At this point as he told his father and mother that he ia going before setting out on an adventure,abd they agreed to his utter surprise,he hugged them,but they sent him to A woman named Mika that still took care of him,It was his 2nd year starting in the house.Nexus woke up in his room, it was his birthday. He got up and ran downstairs finding Mika in the kitchen making some breakfast. Mika is Nexus's foster parent. He rushed to the dining table and they both hugged each other as she said happy birthday. Mika was the happiest he could be, because she was always the first person that wished him on his birthday. As he sat down on the dining table, Mika brought his breakfast. The plate had two Cookies and chocolate chip pancakes and had some fresh orange juice. This was his favorite breakfast and he always got it on his birthday, he was delighted and could see Mika put a lot of work into it. As Nexus was eating, he noticed that Mika and he were the only one in the house… He asked where everyone was and she said that they went to go outside to get some materials for construction on the house that got struck by lightning two days ago…When he finished his breakfast, Nexus went outside for some fresh air and saw Shawn and the crew coming back from getting "materials" but he saw nothing. He also kept this name a secret because If anybody heard that name,they will go crazy,because a so wealthy boy like this.Now he had been given name Tempesta because of his hate for Dark Guild Members and Destroying them without a Utter Question,Tempesta means Calamity (For DG members).
Last edited by Drake Vermilion on Wed Apr 15, 2015 2:13 am; edited 1 time in total

Nexus Phoenix






Posts

: 47


Age

: 19


Join date

: 2015-03-14


Location

: Magnolia

Statistics
MP:


(100/100)




Nexus Phoenix






Posts

: 47


Age

: 19


Join date

: 2015-03-14


Location

: Magnolia

Statistics
MP:


(100/100)



Hi, I'm Lilthal and I will be your mod for this process.
Everything seems good except for your powers.
1. Way too overpowered.
2. No fusions
3. Lacrima's are sold in the shop and can not be selected on the application.
4. You can have Dragon Slaying but only tier 1 & 2 elements.
http://www.fairytailelysiumrp.com/t3-dragon-guide
Bump with edited and I apologize for any inconvenience
_________________

Nexus Phoenix






Posts

: 47


Age

: 19


Join date

: 2015-03-14


Location

: Magnolia

Statistics
MP:


(100/100)



Approved.

Though if you do want to paralyze people you will need to make an ability for it.

Go forth and Rp.
_________________
Pls move this turn me Fairy Colour.

Nexus Phoenix






Posts

: 47


Age

: 19


Join date

: 2015-03-14


Location

: Magnolia

Statistics
MP:


(100/100)





Similar topics
---
Permissions in this forum:
You
cannot
reply to topics in this forum