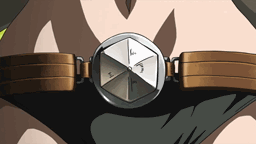 Name:
Animal King: Lionelle
Type:
Belt
Appearance:
Lionelle takes on the appearance of a seemingly normal belt. As with any belt, its straps are composed of tanned leather and it sports a metallic buckle with a diamond shaped ornament at its center. Within this ornament is the lacrima that fuels the belt's magical abilities. As the name suggests, when the belt is active the user gains features reminiscent of a lion, most notably claws, a tail, and ears as well as their hair growing longer and bearing a mane-like appearance. Because of its natural properties, the belt is incapable of being damaged or broken.
Abilities/Functions:


Metamorphosis (MP equal to the User's rank + sustain cost & half)- The user activates the power of the belt, giving them access to the rest of the item's abilities.

Heightened Senses (Passive)- The user gains increased senses, all five of which are increased to allow for perfect sensing within 30m of the user's location.

Feral Strength & Speed (Passive)- The user gains increased strength and speed, gaining passive strength equal to 1 rank above their current rank (capping at S-rank) and a base movement speed of 9m/s.

Instant Regeneration (50% of overall MP)- Once per thread, the user is capable of increasing their regenerative abilities, allowing them to instantly heal all inflicted wounds for the next two posts, regardless of severity.

Rank:
(Scales with the User, caps at S-rank)
This item is a one-time purchase. Once it is purchased it is gone from the shop until returned to the shop once more.
Last edited by Tsukiya Ishida on Sun Oct 26, 2014 1:29 am; edited 1 time in total

Tsukiya Ishida






Posts

: 475


Join date

: 2014-09-03

Statistics
MP:


(270/270)



_________________

Linedwell Rainrex






Posts

: 91


Join date

: 2014-08-28

Statistics
MP:


(215/215)



Purchase approved, enjoy your new item.

Tsukiya Ishida






Posts

: 475


Join date

: 2014-09-03

Statistics
MP:


(270/270)





Similar topics
---
Permissions in this forum:
You
cannot
reply to topics in this forum