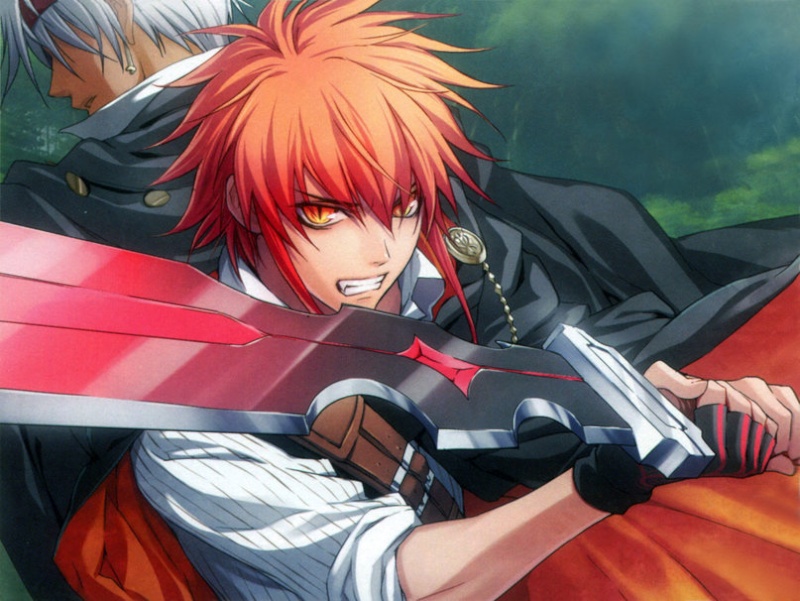 " />
Name: Azre TenshiBiographical Information:
Age:
26
Birth Date:
X865.
Birthplace:
 Era
Relatives:
Sister (Older sister still living in Era) Mother (dead) Father (missing) Brother (twin missing)
Physical Description:
Gender:
Male
Height:
6'2
Weight:
14 stone
General Description: Azre has Red medium length spiky hair and always  has serious face on him he dose not carry any weapons on him he wears and shirt a black waistcoat and a red tie with a cloak warped around him. with black pant and black knee high boots with red trimming he is toned and slim with pierced ears and fair skin. Azre eye's are a fire red that change color depending on his mood has no battle scars But has his Fairy tail tattoo on his neck colored blue also has 2 magic signs tattoo'ed on the top of his hands which are always covered up with his black fingerless gloves.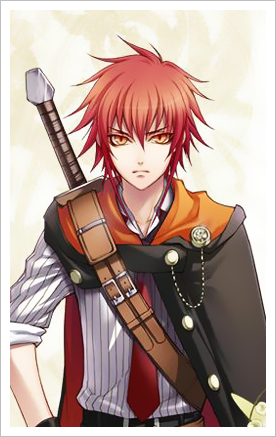 Face Claim: Lagi El Nagil - Wand of Fortune

Personal Information:
Sexuality: Heterosexual
Personality: Azre is a well focus and straight forward guy. He dose not have time for fun and games. He is on a race against his Twin brother called Tomo, to find his father in order to find out why his father killed his mother. As Azre is seeking the truth, Tomo his brother Wishes for revenge. Azre joined the Fairy tail guild after leaving Era, his home town to fund his mission. He has no intention and wishing to make friends and would rather carrying on gaining power for when he meets his father or brother again. He takes care of the money situation for his big sister called Tamako by going on requests but has very little contact with her. He has trouble hiding his emotions when pushed to it and can loose control of his reasoning when fighting. Azre has a smart mind and can determine the best course of action. he likes training and sometimes can spend to much time training which leas into his next thing he likes sleeping Azre can sleep in the most odd places quite well because he is neverto sure he will end up next. Azre has also his dislikes feeling weak in any form which is why he hides his emotions away. Azre and I sense of justice and wont let anyone break it no matter who they are.    

Magic Information:
Magic: elemental Requipping
Description: As many know Requip allows the users to store items in a pocket dimension.
elemental Requipping allows the users to add elements to there Items allowing the user to create more devastating attacks and abilities Right now Azre has only learned how to use light and Fire.
Advantages: Requip can be used for simple or for combat-related purposes.
the users are able to Requip different weapons & Armour in battle.
elemental Requipping helps the user by adding effects to the attacks and abilites and can in time learn how to use all the elements
Disadvantages: However, there is a limit to how much the pocket dimension can store.
Elemental requipping although strong harms the user itself (EG) Fire Burns the user Light rips up the body.
Elements of the opposite Elements used deals more damage to the user  

Chronological and Political Information:
Alignment: Neutral Good
Guild: Fairy tail
Background History: A long time ago in the city called Era Azre lived with his Older sister Tamako his mother and father and his twin brother Tomo. For a long time it had been a peaceful life there sister would of school and Azre and Tomo would stay at home help there mother with the house work they where always playing together and you could pull them apart for two seconds. When there father came home from working they would Practice there magic always trying to out do the other until supper time Tamako already would of been back and then bed for the next morning and for many years it had been like this until and one day came. In the dead of night the sky was clear and you could see the star Azre and Tomo awoke to a loud bang and scream. Azre and his brother rush out of the rooms only to find the Home they had been living in on fire. Azre rush to his parents room. Looking into the room Azre saw his mother laying there and his father over the top of her. Azre bursts into the still so young trying to awake his mother. Tomo at the door shocked and stunned. Azre looks up to his father only to see a face covered on blood and hands dripping. Azre falls back and struggles backwards away from his father. "WHY!" Azre asks his father tears steaming down his face. Azre's father say's nothing and simply walks out of the room not saying a word or noticing Tomo. They never heard from there father again and from day day on life was hard they rebuilt the home and there Grand mother moved in to look after him I pleasant old lady with a bit of a batty side you her. Tomo and Azre since then never stopped training always trying to get stronger with goals in mind that neither of them spoke of until Tomo one day told Azre what he was going after father for revenge and was goig to kill there father Azre coudl tell that the day there mother had died change Tomo heart Azre pleaded not to do this but instead come with him to find out why. Tomo and already made up his mind and left Azre disgusted by his idea. Azre later that month left for fairy tail a guild that there Grandmother had told them about.
[/i]
Last edited by Hashtagtm on Tue Mar 31, 2015 12:18 pm; edited 1 time in total

Hashtagtm






Posts

: 4


Age

: 30


Join date

: 2015-03-28



Bump when your ready to have your application looked at.
_________________

Hashtagtm






Posts

: 4


Age

: 30


Join date

: 2015-03-28



Alright, well I am Lilthal as you can see and I will be your mod for this process.

Okay lets start.  

General Description requires 150WC and you have written 113WC
Personality requires 250WC and you have written 228WC
History requires 500WC and you have written 409WC


Also you have written your history like a present day post.  I don't mind it but take out the talking and just write about the events and possibly add something else.  Like your character went on a long journey or was in denial for so long.  

Bump when edits are done.
_________________


Similar topics
---
Permissions in this forum:
You
cannot
reply to topics in this forum