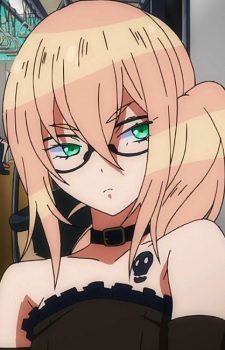 Name: Suzume Akiyama

Biographical Information:
Age: 17
Birth Date: Feb. 14, X874
Birthplace: Reino de Majica
Relatives:



Regret Leonhardt (biological father, deceased)

Skyla Fenrir-Leonhardt (biological mother, deceased)

Niko Akiyama (adoptive father, deceased)


Physical Description:
Gender: Female
Height: 164 cm
Weight: 68 kg
General Description: 150w Minimum The most common dress she wears is of a punk rock design with a black dress and high boots. Her hair is blonde which reach down her waist which is mostly tied into a side pony tail. Her eyes are green in color but can turn red when extremely angry, she also have a small blue skull mark on her right collarbone but it is not a tattoo, it is a mark. She normally wears eye glasses in the color of either black or red. Her skin tone is pale white, she also have long eye lashes and flat chest but doesn't mind it since she could cross-dress if needed. She looks like gothic since she is wearing such dark clothes. She also sometimes cross-dress into a boy and successfully looks like one. When she cross-dress she commonly wears a white t-shirt, blue jacket, black sweat pants and sneakers including her glasses as well. Her guild mark is located at her left thigh and it is colored in bloody red.

Face Claim: FemNinomiya Rui from Gatchaman Crowds

Personal Information:
Sexuality: Heterosexual
Personality: 250w Minimum Suzume is a cold and sharp person but deep inside her is a warm and kind person. She isn't very fund sweets, and finds them disgusting and dream destroyer. She prefers to be alone most of the times and is silent but she's also open minded and sometimes speaks her mind off. She is a secretive person and doesn't show anyone if she's sick or not. Suzume can somewhat tell if the person is lying or not but doesn't speaks about it and instead acts innocent when they are lying.

Even though she's cold, she is still polite and acts lady-like at times. Suzume doesn't like it when someone flirts with her and if someone did she'll punch them straight in the face but has a habit of blushing when she is shipped with someone. She does likes kids and only acts kind and warm to them, as well to cute animals. She displays a cool, reserved, cold, sharp and serious personality most of the time. Suzume is a righteous person who has respect for other people's lives. She treats everyone equally and only sees them as equal.She never underestimates her opponent no matter on how weak or strong they are. She isn't afraid of dying since she is very ready to die for her comrades.

She doesn't like it when she is bossed around but instead of complaining she just follows them unless if it's evil. It is also unknown if she is lying or not since she rarely shows any emotions on her face other than her seriousness and coldness. She loves music and also said (sarcastically) that she is only married to music and will never cheat on music, to her adoptive father when he asked if she would get married once she grow up. She never wants to be compared. Suzume is immune to insults however her cool would be broken down once they insulted or talk about her flat chest and she chokes them but not kill them.

Magic Information:
Magic: Ice Dragon Slayer Magic
Description: Ice Dragon Slayer Magic (氷の滅竜魔法 Hyō no Metsuryū Mahō) is a Caster Type Magic, Lost Magic, and a type of Dragon Slayer Magic that utilizes the element of Ice.

A Magic which allows Suzume to incorporate the element of Ice into her body, gaining exclusive characteristics that are commonly associated with Ice Dragons. Suzume is able to produce large quantities of ice from her body in order to attack her opponents. With this Magic, she is able to quickly form a great variety of ice structures that are suitable for a diverse range of purposes, no matter if the nature of these circumstances demand offensive or defensive uses.. However, all the objects that Suzume creates share one similar trait in that they freeze almost any surface they may come into contact with, covering it in a thick layer of ice that remains for extended periods. With further use of her magic, Suzume is able to cause her surroundings to begin to develop into a frozen climate that supports and increases the advantageous features of any future spells, while disadvantaging her opponent further as they suffer from the harmful effects of the sub-zero conditions, leading to the opponent falling to frostbite if they are not careful.

As with all Dragon Slayer Magic users, Suzume is able to eat her element, in this case being ice, in order to replenish her strength. She is not able to eat her own ice, but rather is capable of eating the ice produced from Ice-Make, Ice Magic.

Advantages: Water, because ice freezes water which means that Suzume can freeze a whole swimming pool and 1/4 of the sea. Ice makes nature wither but Suzume is too nice with nature so she won't actually do it on purpose.
Disadvantages: Motion sickness is something that Suzume couldn't handle and something that she barely hides when she is riding any transportation, but she just sleeps when the ride started on and is lucky to sense if the train has stopped or not. Ice is a conductor of lightning which means that Suzume avoids lightning at all cost but it doesn't mean that she's afraid of lightning. She's just too lucky that she is not using any steel-related magic there is. Fire magic can melt the ice of Suzume. Steel mages can destroy the ice of Suzume into shards.

Chronological and Political Information:
Alignment: Lawful Good
Guild: Fairy Tail
Background History: 500w Minimum Suzume was born in Reino de Majica. Reino de Majica was once a peaceful, musical, magical and joyful country until it was destroyed by a group of powerful dark mages that no one could ever defeat. Her father, being the captain of the 1st division army and the strongest soldier died. Her mother was also killed, but before she was. Suzume's mother hid her on a basket and covered her with a blanket. Luckily for Suzume she was asleep when her mother was getting and killed and when the group of mages were destroying their house. Although she was discovered as hours passed by. The group of mages then decided to keep her and become their slave once she grew up.

3 years had passed, and she did became their slave. On her 3rd birthday she was marked a blue skull and that shows that they were her slave. When she make mistakes she was being scourged. They abuse her even though she didn't do anything wrong. She was abused and her wounds and bruises never heals because of them. Her personality at that time started to build but did obey them even though they're like that. However one day, the group of rogue mages mocked her father on how weak he is and on how a coward he is. Suzume got angry, of course so she threw tantrums at them even though she didn't know him. The group of mages got irritated, annoyed and angry, they abused her even more. They kicked and punched her until she collapsed. She then thought that she was cursed, she started to hate the world and everything; She wished that she wasn't born if her fate would be just cruel to her. After on that fateful day she was caged and chained on the feet and hand on the cage so she wouldn't attempt to escape whenever they make her do something like do chores. She could escape but only if she cut her hand and feet but it wouldn't be of any use since it would just make her suffer more and she knew that. The only rogue mage that didn't do anything bad to her was the silent one and Suzume was happy of that. He is also the person that takes care of her and he never assigned her to do a certain task; He even gave her a book on her 3rd birthday, although she doesn't know on how to read. She was half thankful to him and half not, what would a 3 year old that isn't taught going to do with the book? That's when the dark rogue realized it. He started teaching her when his comrades are asleep or out for another dark task. Then finally 6 months later she knew on how to read, count, add, subtract, divide, multiply, do math, science, etc. She is indeed a fast learner herself in which the dark rogue was surprised. How could a 3 year old child even get those things in one history? That's probably because she has a royal blood of a Majican. Her father is a prince but then he became a captain of the 1st division since a prince wouldn't actually do anything.

It was then a night came , the group was asleep and even Suzume was. She then suddenly felt cold but it was spring season at that time so it confused Suzume and woke up. She looked outside from her cold cage and saw a creature with wings on the moon. At first she thought that it was a cloud but a cloud would never be that solid. After realizing on what it was, she grabbed her book and started flipping all the pages of the dragons then she landed on the Ice Dragon. She compared the shape to the ones on the moon, but it was gone. She then felt really really cold on her back. She turned to look on what it was and she just saw large claws... really larges sharp claws. She was shocked and couldn't say a thing and  was shivering in fear. Suzume realized that her life was nothing but a failure, no, she was the failure; that's what she thought back then. Then the dragon roared, it was deafening that it almost made Suzume deaf. The dark rogues then woke up from the deafening sound and saw the dragon that was before the cage. They ran away in fear of the dragon leaving Suzume all alone with the dragon. She doesn't have a chance to escape. The dragon then sliced the cage in half with its sharp claw. It was looking intensely in her eyes. She was scared, really scared. She thought that it was gonna make her its meal but she's wrong, instead it just smiled at her and didn't eat her. She was puzzled and confused, that's when it grabbed her with its claws and flew away. Suzume fainted on how high they are, then the next morning came; She was glad that she's still untouched and alive. She was gonna escape when she realized that the tail of the dragon was wrapped around her. The dragon woke up and smiled at her.

Suzume, surprised, was staring at it in awe. It was even more beautiful than at day. She realized that she wasn't in the forest anymore instead she was at a snowy mountain that is very cold. The dragon introduced itself and once again Suzume was surprised but her surprise was gone when cold air passed by her. The dragon laughed and told her that she will get used by it as time passes by. She wants to complain but that's too out of character of her instead she just introduced herself back. She thought that she might have cold, frostbites, fever, etc. the dragon noticed this and gave her a scarf. Although he did say that the scarf would only give her warmth for one month and after that it will melt.

3 years passed and Suzume got used with the atmosphere around her and wasn't using any scarfs to warm her. The dragon taught her academics the pass 3 years and also trained and taught her about magic, manipulating magic and his magic. It was still surprising that she learned them all in 1 and a half year only but he still taught her even though she knew it already. It was so sudden that he just disappeared after she woke up. She traveled for years to find him until she met a man that says that she will protect her , and act as a father to her and he did so. He enrolled her into a school for her to make friends and probably learn new things but instead she made some friends, she was a loner. It was okay for Niko though. As long as she's safe and not bullied, he'll still let her go to school. 3 years had passed again, Suzume went home but it was dark. But before she could ever turn on the lights, she smelled blood. It was like a corpse was laying down somewhere then her dragon senses got active, he guards are up. Then there was a real corpse lying down across the doorway. Suzume was stunned and there they were the murderers. It was like a nightmare for Suzume, of course she had been with many corpses when she was still a a baby but she haven't seen it! The horror filled her eyes and she ran for dear life, she was certainly ready to die but she didn't know on why she is running. The murderers then came into view, one in front of her and one at the back of her. She didn't know why she was being chased then she suddenly remembered on what the man had told her. She was a Leonhardt, and the only one existing left. If she died then they would awaken the Dark Lord and they would destroy the world. Suzume ran faster as she could but then she was getting out of breathe and ran slower until her knees collapsed.

The two person then got out a dagger and a knife and went for Suzume, she's just lucky that she is a dragon slayer or else she would be dead meat. But if her guardian was killed by them, they're supposed to be mages too, right? Even though she did try to use ice to make them frozen for a bit and then she ran again losing them in sight. From that day on she never made contact with anyone, unless it's important. She traveled for years to achieve her goal and find answers to her questions then she turned 17 and stumbled on a guild called Fairy Tail. She didn't know if she would join or not since dark rogues are out there chasing for her, and is willing to kill anyone just for her blood. But she shrugged the thought of that since she knew that they must be more powerful than them and so she joined Fairy Tail for 3 reasons: 1. To become more powerful. 2. To find answers she wanted and 3. Achieving her goals.

Last edited by Suzume Akiyama on Tue Dec 30, 2014 11:19 am; edited 3 times in total

Suzume Akiyama






Posts

: 5


Join date

: 2014-12-30



Yo, Tsukiya here, I'll be taking a look at your app today. The only issue is that general appearance needs to be a little longer, you're at 77 words right now. Expand it a little bit more and you should be all set.

Bump when edited.

Tsukiya Ishida






Posts

: 475


Join date

: 2014-09-03

Statistics
MP:


(270/270)




Suzume Akiyama






Posts

: 5


Join date

: 2014-12-30




Tsukiya Ishida






Posts

: 475


Join date

: 2014-09-03

Statistics
MP:


(270/270)





Similar topics
---
Permissions in this forum:
You
cannot
reply to topics in this forum