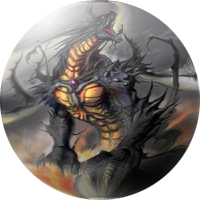 Name:
Dragon Slayer Lacrima- Shadow
Magic Type:
Caster
Description:
A Magic which allows the user to transform the physiology of his body into that of the Shadow Dragon, making his body into a shadow that cannot be touched by normal means. With this Magic, the user is also able to fade himself into shadows to move swiftly, dodging efficiently and making surprise attacks.
Advantages:
The user is impervious to shadow magic, taking significantly less damage from it. The user of this magic is also capable of changing various parts of their body to take on characteristics of a Shadow Dragon, giving them control over shadow magic for various attacks. The user is able to eat shadow magic in order to revitalize them.
Weaknesses:
The user takes increased damage from light based attacks. Prolonged use of the magic can wear on the user, causing great fatigue. The user cannot consume shadows created by their own magic.
Last edited by Tsukiya Ishida on Sun Oct 26, 2014 11:16 pm; edited 1 time in total

Tsukiya Ishida






Posts

: 475


Join date

: 2014-09-03

Statistics
MP:


(270/270)



Sooooo....I want this. Take my money
_________________

Linedwell Rainrex






Posts

: 91


Join date

: 2014-08-28

Statistics
MP:


(215/215)



Purchase approved, enjoy your new magic.

Tsukiya Ishida






Posts

: 475


Join date

: 2014-09-03

Statistics
MP:


(270/270)




---
Permissions in this forum:
You
cannot
reply to topics in this forum