Gus Sussano Biographical Information:
Age:
15
Birth Date:
8/12/1876
Birthplace:
Magnolia Town
Relatives:
Unknown at the moment
Physical Description:
Gender:
Male
Height:
6'3
Weight:
189
General Description: Gus is a tall teenager, looking like a man for his current size and behavior. Gus may look thin but in all actuality he is tough. His shoulders are wide, spreading the weight across them as even his body has shifted to being the most efficient it can be. His stomach has the beginning forms of abs, but currently he has very little. Gus's arms however are muscular and thick, easily able to hold large weaponry like hammers. His legs are thick, strong at the bottom around the foreleg and ankles, but with a decent layer of blubber around his legs. Gus's eyes are hazel with spots of jade green and teal, exposing his heterochroma to anyone who looks at him. Gus also has a widows peak on his head of brown hair. Gus's hair normally looks like its full in the back, with side burns that go about half a inch outwards, and a youthful beard, that looks more like a 5'o clock shade.
Face Claim:
Yasuo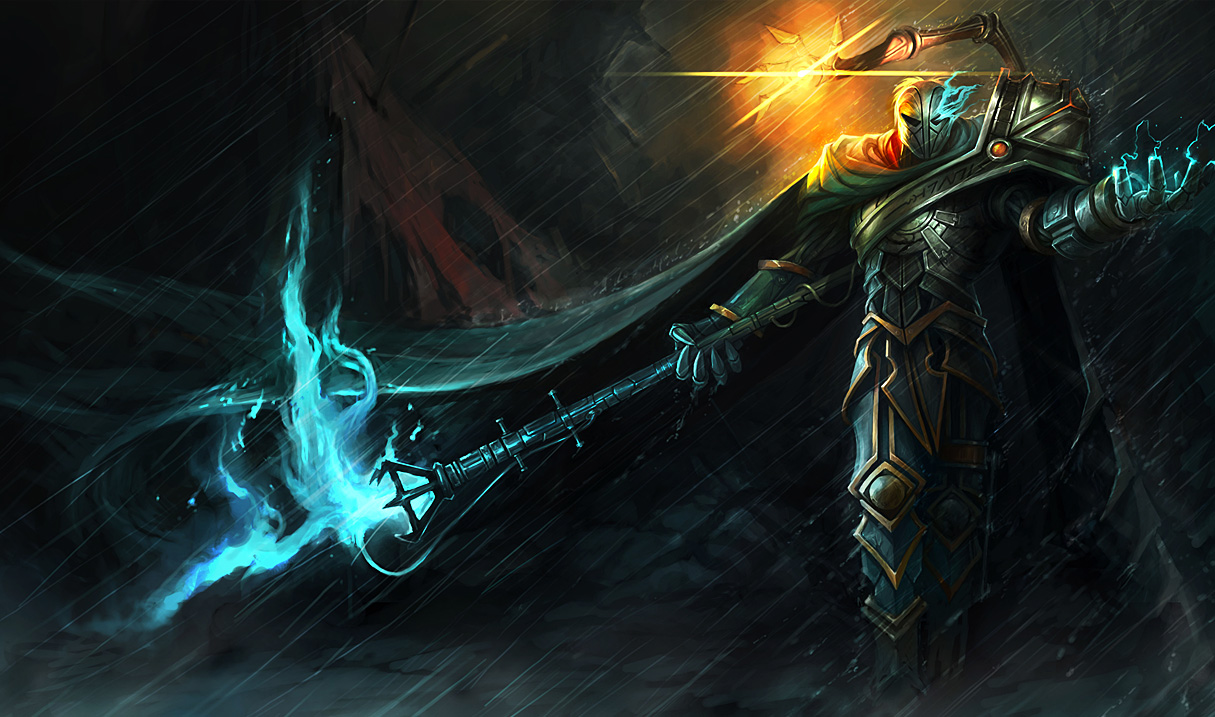 Armor / Viktor

Personal Information:
Sexuality: Heterosexual
Personality: Gus functions as a machine of war compared to the average person. His average thoughts involve how to gain both more power, and more enjoyment to fill up his life, for he believes courage is earned through skill and feats of strength. Gus is mainly silent around others unless he is being spoken to, or he is relaying information that might help someone. Gus tries to be as efficient as possible, because he dreams of being one of the best mages of all time, able to make even SS ranks tremble in his appearance, but that is a long time in front of him. Gus enjoys rich food, other people's company, training, poetry, powerful spells, doing things people think are impossible. He hates people who act stupid, people who are stupid, highly unfavorable circumstances, spiders, (heavy) gore, the undead, and his own counters. Gus is known for being calm most of the time, listening to orders, and a great memory. Gus around his friends however, becomes like his old self. Gus's old self is more talkative and playful, filled with energy and innocence. It has taken Gus a long time to forgive what happened to himself in the Celestial spirit realm, but whatever happened to him hardened him to the rest of the world. When Gus gained his keys from the King, Gus frequently brought the spirits out to play and talk to them, just to become friends with them as the days got long and boring walking place to place. Gus loves to sing secretly, and has a decent voice to boot, but he always forgets some of the lyrics unless he has the lyrics in front of him. He also dances, where most of his moves are just spins that should of made him sick minutes ago.

Magic Information:
[i]Magic: Celestial Spirit Mage
Description: By holding the Golden / Silver / Jade keys of the Celestial plane, Gus can rip open portals to the Celestial Spirit world, and bring forth the spirits to fight with and for him. The Celestial magic when first opened allows Gus to make a contract with a spirit, and it simply is asking what days can he call on the spirit. Contracts can be broken if the Mage is arrested, releases the Spirit by him/herself, or dies. Also, The Spirits must also abide by certain rules enforced by the Celestial Spirit King. The only rule that has been introduced so far is that a Spirit may not directly or indirectly kill its summoner under any circumstances.
Advantages: 3 summons instead of 2, Spirits use their own magic, Gus gets more friends!
Disadvantages: More expensive then the normal summon, requires the key to summon, Rank limits.
D: 1 Silver, 1 Gold
C: 2 Silver, 1 Gold
B: 3 Silver, 2 Gold
A: 5 Silver, 2 Gold
S: 5 Silver, 3 Gold (4 Gold if you obtain the 13th Key)
SS: 6 Silver, 3/4 Gold, 1 Jade

Chronological and Political Information:
Alignment: Chaotic Neutral
Guild:  Mercenary
Background History: (Describe your character's back story. Tell us how your character became who they currently are.) Gus was born and raised in Magnolia Town, where he had a reasonably decent life. He was born into a family where he was the only child, and the family had decent wealth, a little above the average person in the town of 60,000. Gus went to school, taking a interest in other people, trying to understand them while he passed his tests and exams. He grew more and more interested in how people ticked and worked when he saw a abusive relationship in the school grounds, where the girl was clearly the leader of that alliance. He then gained a pet, a golden haired puppy named Sandy. He happily took care of it for years, even playing and wrestling with the little girl, referring to her as his sister. He was forced to give up the dog when his father decided to save more money, and gave the dog to a buyer. Gus never did speak up against his parents, but he did gather a few supplies and escape the town. He walked into the forest, at the age of 11, and walked into a dark rift he saw. When he came out years later, he wore a pure white cloak with padded armor underneath, becoming the serious teenager he is today. When he walked out of the rift, he lost his innocence and talkative happy nature, and in turn gained the keys of the spirit realm. He always would say he never did get keys, he simply said he gained a family he loved.

 Gus when he first walked into the rift had his doubts, but when he remembered where he came from, he willfully walked into the spacial tear. When he walked into the rift, he calmly marched forward until he face planted into the dirt, trying to breath as the realm had no oxygen. A spirit floated infront of the dying child, and decided to help him by sharing magic with him, granting him breath. He looked to the spirit, asking it, "What is this place..?" The spirit covered in golden light said, "This is the Celestial Spirit world. And you human should not be here." Gus blinked, confused by this new development, as two more questions slipped his lips, "Why did you save me? And why am i not supposed to be here?" The spirit, snarled out, "I saved you because your a simple child, and your not supposed to be here because you can't breath here!" Gus walked out of the rift, and found himself in a realm he had no idea about, a world of golden light and rainbow glass. There he met the Celestial Spirit King, who proved to be friendly. Gus and the King quickly became friends with the armored titan, where the King gave him the two keys he owns now, and granting him a set of spirit realm clothes to stay in the realm for a while before returning once more to the normal world. Gus was in the realm for not to long, not even a few weeks, but when he returned the world had shifted.
[/i]
Last edited by Gus Sussano on Tue Oct 07, 2014 6:26 pm; edited 1 time in total

Gus Sussano






Posts

: 24


Age

: 18


Join date

: 2014-10-07

Statistics
MP:


(100/100)



Alright, let's get started with the grading, hm?

-For your general appearance, you actually have to describe what he looks like, though you are also free to include pictures as well. This has to be at least 150 words.

-Your personality section is only 161 words, you need to expand it to at least 250. Tell how he is around friends, how he is in combat, his views on others, etc.

Bump when edited.

Tsukiya Ishida






Posts

: 475


Join date

: 2014-09-03

Statistics
MP:


(270/270)




Gus Sussano






Posts

: 24


Age

: 18


Join date

: 2014-10-07

Statistics
MP:


(100/100)




Tsukiya Ishida






Posts

: 475


Join date

: 2014-09-03

Statistics
MP:


(270/270)





Similar topics
---
Permissions in this forum:
You
cannot
reply to topics in this forum