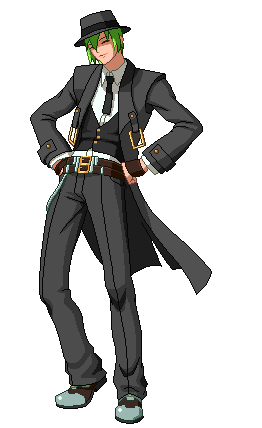 Name: Hazme Yukino Biographical Information:
Age:
18
Birth Date:
September 27 of X873.)
Birthplace:
Balsam Village
Relatives:
N/a
Physical Description:
Gender:
Male
Height:
1.89 meters tall.
Weight:
68 kg.
General Description: 150w Minimum
A tall green haired guy, he looks fancy cause he is always using suits and hats, he likes to. He has yellow eyes, but they are hard to see, they are very small and he opens them more when he is in battle or something interesting is happening. Hazme has a green tattoo in his tongue, its the guild's crest, he shows it always before starting a battle. The suit that he uses is always black, sometimes he likes to change color to white or red, but its mostly black.
He has a light tone of skin, his green hair goes to the ears and he is very smiley, he uses some kind of gloves, but they only protect the pam of the hand, they don't cover the fingers. He also uses a very notable belt, a brown belt with a golden metal in the center that shines with the sun.
Face Claim:
Hazama, Blaze Blue
Personal Information:
Sexuality:
Heterosexual
Personality: 250w Minimum
Hazme is lazy out of battle, he prefers not to do something if it is not completely necessary, he helps who he can and its extremely loyal to his team and guild, he exaggerates with that. Hazme likes suits, he always uses the same but loves them, he smiles all the time, he is a very smily talkative person. Way to impatient, he loves to battle but he prefers to do it in team, when he battles he uses all his power, it doesn't matter how strong the opponent is, he always battle with all strength but tries not to kill, he is an enemy of death, Hazme doesn't like losing people, even if it is the worse mage of the world he won't kill him if he is able to, or he will try not to do it, anyway he is extremely competitive and loves to fight or to show he is better than everyone else in something, when he battles he transforms into a fighting machine, he won't stop until he finishes what he started. Also, he is very capable of being dirty. Even do, the only one rule he doesn't break is not hitting woman, mostly attractive woman, he won't matter attacking "ugly" woman, but with ugly, I mean very ugly. He is easily pleased when talking about woman.
He will also leave alone kids and animals, but if he sees they have bad intentions, he may break the rule, with kids woman or animals... Except for koalas, he will never touch koalas hurting them.
He also cares a lot of the people he love, he tries to protect all the people that need help and sometimes he exaggerates with that and helps too much. Even do, he cares more of his guild than the people outside, he think that all the guild is part of his family, and he will guide and protect the guild.
Magic Information:
Magic:
Acid Body Link
Description:
The user can transformative into a creature made of acid when ever he wants, this acid can destroy weaker magic and it burns like any kind of acid its nothing special, the user has more than one form and can mold his body, but this involves using mp, the caster can use acid attacks with out transforming into his acid demon form, its a link that a demon made with him in a nightmare, the demon can give him his power so he can use acid magic. But one of the consequences is that if the user dies his body will become purple acid, and the demon will rise one more time hungry of destruction.
Acid Demon:
Acid Form:
Advantages:
-It can burn Magic
-Physical weapons will be useless against the user in acid form.
Disadvantages:
-It can only burn weaker magic than the user's magic.
-The user's body when being human body has no protection against physical weapons.
Chronological and Political Information:
Alignment:
Chaotic Good
Guild:
Lamia Scale
Background History: 500w Minimum
Marik was borne in Oak town, he lived with his parents and his older brother. Hazme was a very smily kid, he has always been very smily, but anyway he always had nightmares, weird nightmares, special kind of nightmares. He use to dream with demons, weird demons that liked to talk with him, and he was smiling while talking with them, it wasn't even a bad dream, or at least at the beginning, with the time the dreams started to turn kind of crazy, he was suffering because of the demons, they were torturing him, they were torturing a 7 years old kid. Anyway, he learned how to ignore the pain, and how to control itself in the dreams so he could ignore the suffering.
Hazme told his friends about his dreams, very happy and excited, he wanted to see the "amazing" reaction of his friends, but with the time, the stories of being in a prison talking with a winged creature, or being burned while talking with a giant dog started to be creepy, he lost his friends, he didn't have anyone, only his brother, his mom and dad always toughed he had problems, mind problems, but his brother had the same dreams.
The kid started to go to bed before time so he could dream with his demon friends and smile again, but one of those days he dreamed with a different one that he never met before, a demon who didn't have friends because his hand would burn the heart of who touched it. He spoked with him, in an infinitive dream, he never woke up until he made a deal with the demon, giving him the chance to find new worlds, the world where the kid lived.
With the time Hazme grew up with his brother, nobody knew about his powers, but one day he lost control burning his brother's face, and then his heart, losing him for ever... Losing all the love he had. When he was going to fall to the dark, the demon saved him, when he was 16 years old, the demon talked with him, spoke, and at the end he convinced Hazme of what was good and then lost his body in Hazme's soul. He started to live alone one year later, working, he bought a small house where he could live, and one year later his father's died, he never knew why or how, he only knew that they were gone. He started to train his magic, to use it for good, and then he met someone, his grandfather that he never knew about, he told him about guilds, he told him about Lamia Scale, making him investigate about the guild, and making him enter the guild. When he was 19 he decided to form part of the guild, and went to Lamia Scale so he could start making jobs there and working with new people.

Hazme






Posts

: 5


Join date

: 2014-10-06



In regards to your magic, keep in mind that you can't passively have immunity to physical attacks, though if it is a spell then you're allowed to do so. Also, the burning magic will also have to be a spell and the "demon rising from the dead" will have to be a spell. Any burning or melting that the spells do to a person must have an upkeep cost if you want to keep the effect active. Are you okay with this?

Tsukiya Ishida






Posts

: 475


Join date

: 2014-09-03

Statistics
MP:


(270/270)



Yes, transforming to demon form is a spell, and the burning goes only with some spells, it does use more magic.

Hazme






Posts

: 5


Join date

: 2014-10-06




Tsukiya Ishida






Posts

: 475


Join date

: 2014-09-03

Statistics
MP:


(270/270)





Similar topics
---
Permissions in this forum:
You
cannot
reply to topics in this forum